Description
Axolotl cave – Medium-sized tunnel for Axolotl
Axolotls like it shady and to retreat into small niches or tunnels. A low ceiling height accommodates their need for security.
This cave shape was adapted to the needs of axolotls in cooperation with keepers and breeders.
But tunnels of this design are also ideally suited for other ornamental fish and invertebrates in our aquariums, such as catfish, loaches or larger crayfish.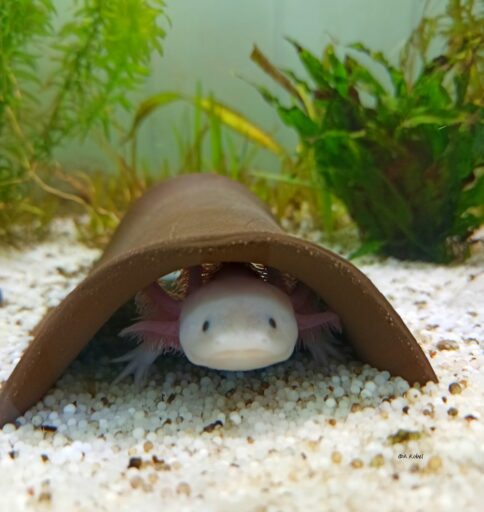 To give this shelter some naturalness, the surfaces of the single-coloured tunnels are hand-decorated. Our multi-coloured versions do not receive any additional decoration so as not to disturb the colour pattern.
At 1090 °C, the axolotl burrows become very hard and durable products. They can easily be boiled for disinfection purposes or placed in the oven at high heat.
Each tunnel is unique, color deviations are desired and intended.
Please note: Notes on the colours
If you do not want any surface patterns on your caves, simply indicate this in the comments field when you place your order. The delivery time will then be up to 9 working days because the caves will then be made especially for you without a sample.
Length approx. 23-25 ​​cm, height approx. 6 cm
With all the hiding places that we offer for axolotls, we attach great importance to injury-free surfaces, so that as a rule no reworking by you is necessary.