Production of caves, decoration and useful accessories from the practitioner for the practice
In a pottery on the Lower Rhine near the Dutch border, we produce (almost) everything that keepers and ambitious breeders need in the way of ceramics for their hobby.
We started in the early 2000s as long-time aquarists with the "standard caves" for L catfish for our own breeding facility, at that time in only 2 colours black and terracotta. With the different L-catfish species in our tanks, the need for different cave shapes and sizes grew in order to generate breeding success. Thus, some special cave shapes were created to meet the requirements of special species.
The range continued to grow so that cichlid keepers and breeders also found what they were looking for and the demand for other accessories could also be met.
AquaKeramik
With the takeover of AquaKeramik in 2019, the range of products expanded many times over. Since then, we have been producing all AquaKeramik items with our employees in our steadily growing in-house workshop.

In addition to the large repertoire of cave sizes and shapes, a wide variety of igloos and tunnels for axolotls now leave our factory every day in large quantities and up to 10 different colour variations.
By the way, AquaKeramik has nothing to do with a similar-sounding competitor (called "Aquariumkeramik").
AquaKeramik axolotl caves are only genuine from our company with our original fish stamp 😉
In cooperation with keepers and breeders of axolotls, we are constantly developing new models that meet the requirements of the sensitive animals and allow keepers a little variety in the design of their tanks.
All the articles we offer for axolotl are processed with particular care. Already during the first working step, special attention is paid to the processing of the surfaces and especially the entrance edges. After an individual drying time, the raw material is carefully sanded before firing so that all remaining corners and potentially injury-prone areas are removed. After firing, all pieces are checked again and, if necessary, reworked with an iron file if we have overlooked or "over-felt" something. The final check is made when the ordered goods are packed. Here, too, we feel the pieces, especially the entrances, one last time to ensure the safety of the axolotls.
The ceramic is fired at just under 1100 °C and can therefore easily be boiled for disinfection purposes or placed in the oven at high heat.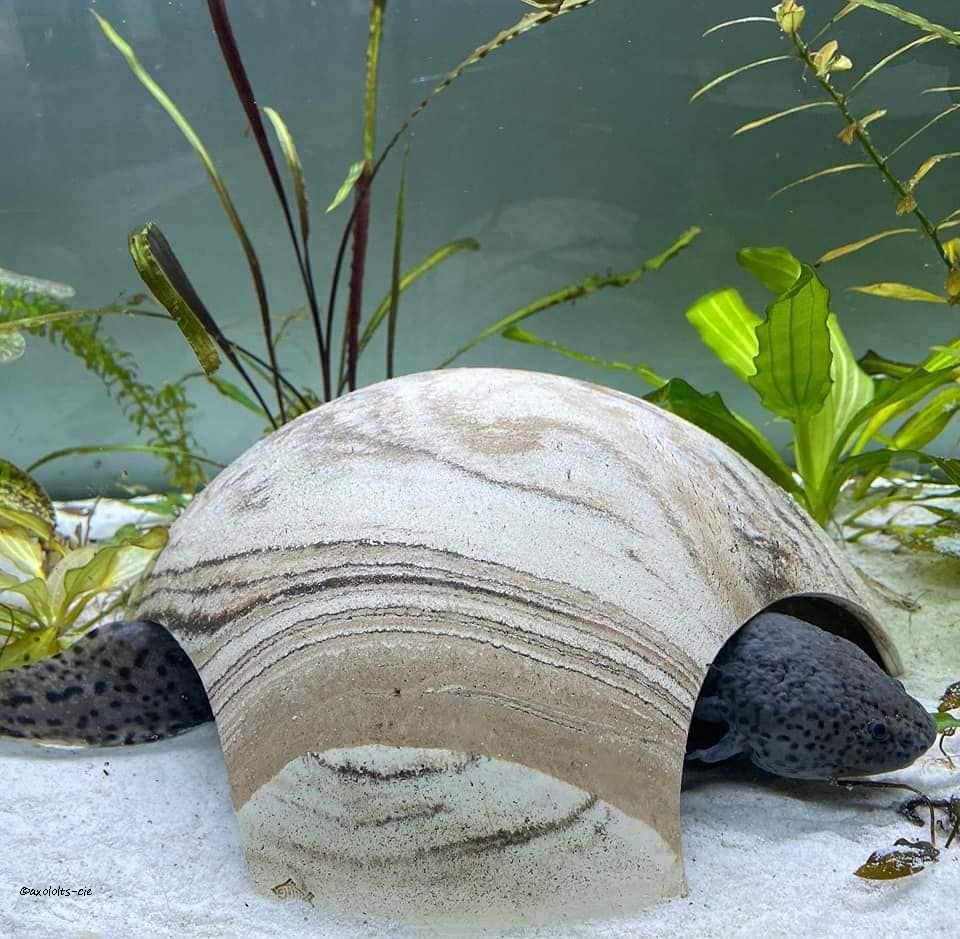 nature2aqua is the unique combination of 20 years of experience in processing clay and the aquaristic wealth of experience of two "old aquarists". In our in-house L-catfish breeding facility with almost 50 species, we are constantly developing and testing new models for "difficult" species, which, if successful, go into production.

We mainly process stoneware clay, which can be fired to a very high temperature and is very break-resistant. We get some of the multi-coloured clays ready-mixed from the clay manufacturer, other colour variations we mix ourselves in a very elaborate and strenuous work process. These are then used to create our colours "Camouflage" (made of terracotta, black and white) and "Navy" (black and white), which, depending on the processing technique, sometimes end up in a coarser, sometimes in a finer pattern.
Due to its fireclay content, stoneware clay is significantly more fracture-resistant than products made of casting clay. Depending on the product, we use different clays with different proportions and grain sizes of fireclay. On the one hand, this makes our caves very stable and durable. On the other hand, the surfaces are never completely smooth, which provides an excellent basis for surface growth, which in turn is very readily grazed by catfish or shrimps, for example.
This slightly rough surface of the cave also benefits the adhesive properties of most fish eggs without damaging the eggs. The eggs adhere better to the cave wall, minimising the risk of the eggs being flushed out of the cave.
Casting clay, on the other hand, is quite smooth because it does not contain fireclay. Experiments have shown (and this is confirmed again and again) that caves made of stoneware clay are clearly preferred by L catfish over those made of casting clay.
As we are a manufactory, we can also respond to customer requests. We will gladly manufacture one of our existing models in a different length/size or colour than offered, if this is possible. But also special designs according to your own ideas are – as far as technically feasible for us and they fit into our spacious kilns – possible at any time.
We offer all our products in our online shop, which is also open to dealers.
Zoological research institutions
Some German and Austrian research institutes are also among our customers. If you, as an employee of a zoological institution, have a special requirement for your animal husbandry, which should preferably be made of clay, we will be happy to help you. Our ceramics are autoclavable and can therefore also be used under laboratory conditions.
Dealer enquiries welcome:
As a dealer, you can benefit from reduced B2B prices and attractive price scales when purchasing larger quantities. Register here now: Dealer registration
We may not be able to match the wholesale prices of other manufacturers for some products. On the other hand, you will not get any "China goods" from us and, with a few exceptions (Panta Rhei© cave branches), no articles made of cast clay. You thus offer your customers high quality and long-lasting products. The breakage rate during shipping is significantly better than with cast goods (provided, of course, that the packaging is always appropriate and adapted to the material).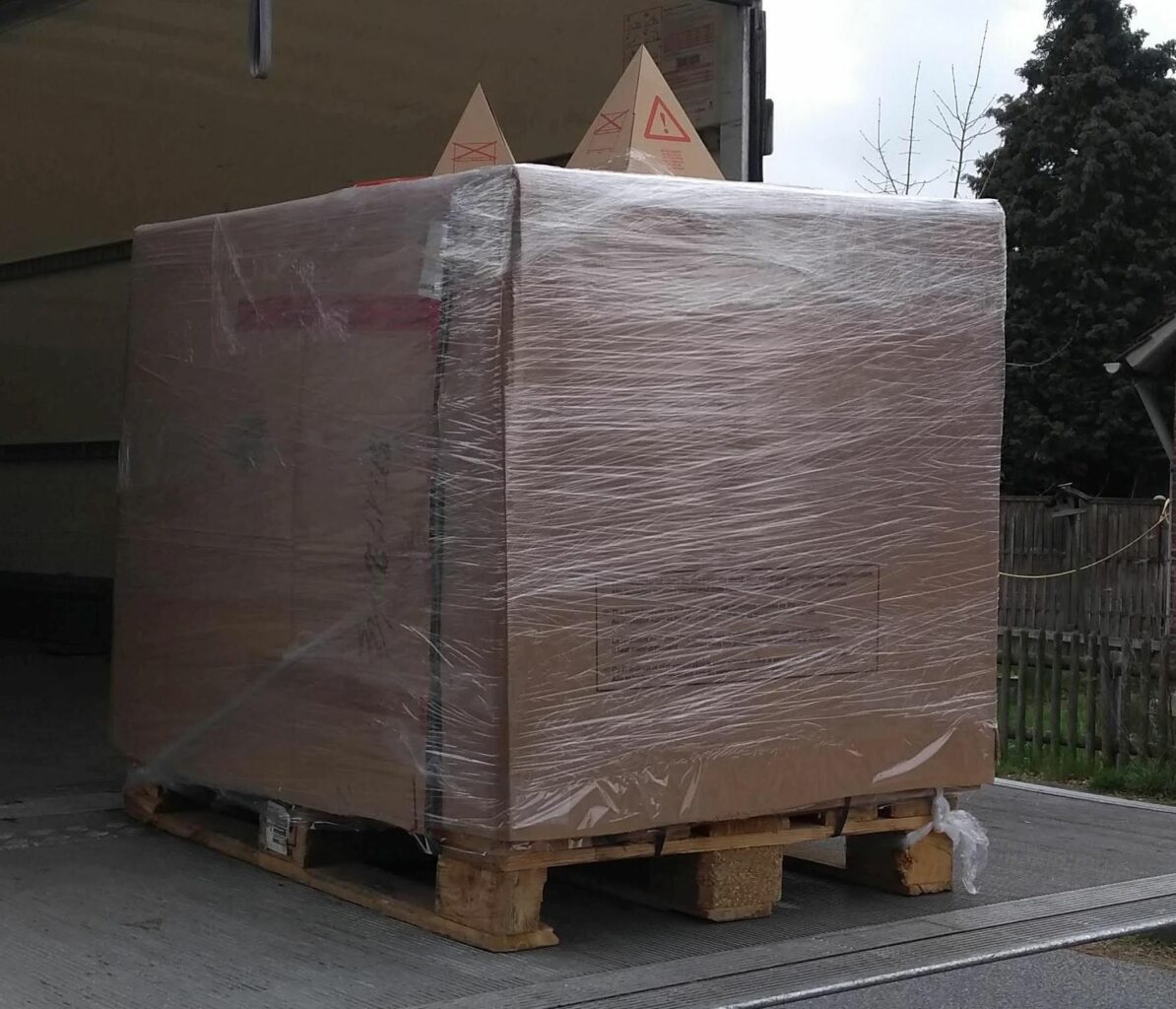 If you are a European dealer, the "carbon footprint" of the goods should also be significantly smaller than that of an Asian import. Quality from Germany from a workshop
with good working conditions for employees and fair pay
on-site energy use entirely from renewable energies (predominantly own PV)
100 % recycling of all packaging materials
short distances
a contact person on site
these are sustainable features that are more important to more and more customers than just the favourable price.