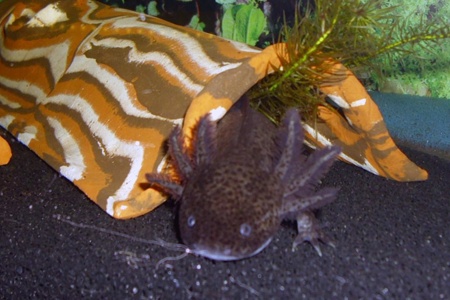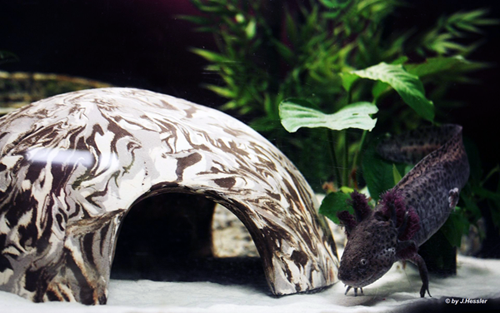 Axolotl igloo cavities and open tunnels made of clay are available here in different designs.
Again and again we were asked by aquarists if there are clay tunnels or open semitubes available for the axolotl. Since then, in cooperation with owners of these beautiful animals, various cave models have been and are being produced.
As there are almost no suitable caves available in pet shops, most of them are catfish caves and often too small in diameter, we have created suitable caves for the axolotl in the form of igloos and tunnels. 
Surfaces with patterns
The surfaces of the single-color versions are hand-decorated with a pattern, the multi-color versions are also striking enough without. All edges are smoothed and sanded before firing. In order to meet the most diverse requirements, different models in different sizes and several color variations were created.
Quite unique and only available at AquaKeramik are the clay colors Camouflage (black/red/white) and Navy (black/white). The clay colors are mixed in a special process. Then the newly created block is beaten and tumbled. Later, the slabs are cut, joined and smoothed by hand. Thus a new grain of clay is created again and again. Only our special firing program at almost 1100 °C gives these models their special and unique appearance.
Nano tunnels made of clay have also been reissued and produced for your nanoaquarium.
Video Axolotl Tunnel made of clay by AquaKeramik