Description
Ziss Aqua ZB-300 Bubble Bio – air operated aquarium filter
The ZB-300 Bubble Bio is an air operated aquarium filter that ensures clean and healthy water in your aquarium. This filter technology has been used for years in professional fish farms and is also known as the 'moving bed filter'. This means that the filter media is moved continuously, which guarantees an even better degradation rate of the pollutants. The filter ensures a natural processing of waste materials in the water, whereby materials such as ammonia, nitrate and nitrite are converted in a biological way. The large amounts of air pumped into the filter degas these waste materials.
In this way, the filter ensures that the values for biochemical oxygen demand (BOD) and chemical oxygen demand (COD) remain low. These values represent the amount of oxygen required to degrade the organic waste particles present in the aquarium. The lower these values, the cleaner the water in the aquarium. The effect of this filter leads to a considerable delay in the formation of algae, so that the aquarium remains particularly clean!
The exceptionally high maximum filter capacity of the ZB-300 Bubble Bio is around 300 litres. The attached filter medium (ZM-1) in the ZB-300 can last up to 15 years and makes this filter a sustainable purchase! The filter is made of high-quality materials. The 4 suction cups ensure that the filter can easily be attached to an aquarium pane.
Advantages of the ZB-300:
Can be used to filter freshwater and seawater aquariums
Provides clear, clean and above all healthy water
Easy to combine with other products
Filter oxygen-rich
Safe water circuit
Little or no maintenance of the filter
mobile use, e.g. also in combination with diaphragm pumps, which can be connected to the power supply of the car, ideal for longer fish transportation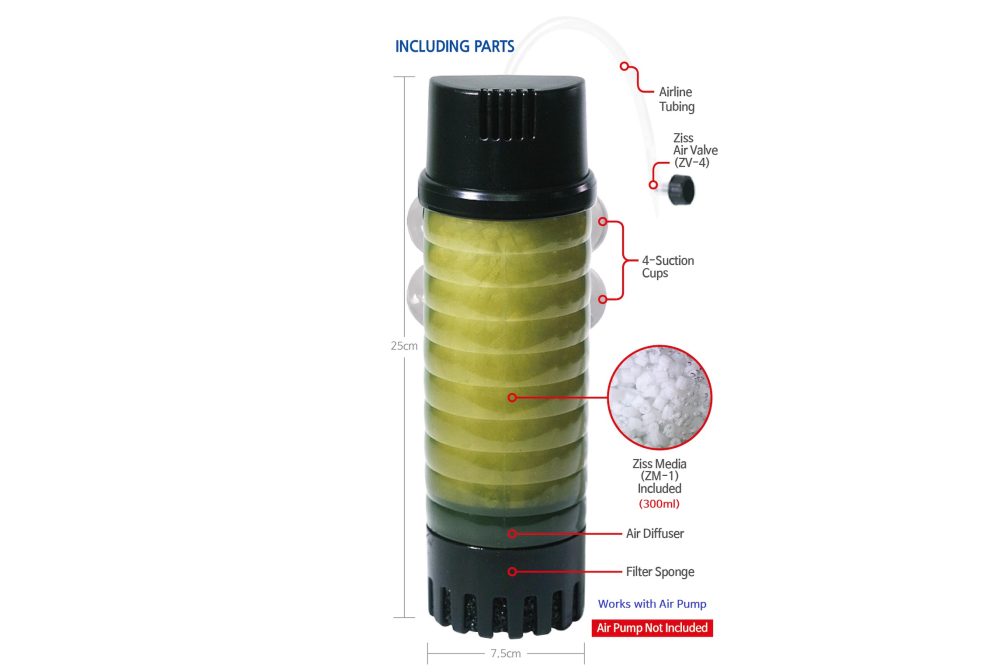 Data of the ZB-300 Bubble Bio:
dimensions: 7,5 cm x 25 cm
incl. 300 ml filter material Ziss Media ZM-1 and upstream filter sponge
incl. short connecting air hose with connection piece Ziss Air Valve ZV-4 and suction cup holder
A standard air/diaphragm pump and an air hose of sufficient length are sufficient for operation.
Opening &  Re-setup method of the Ziss Bubble Bio